Protecting your floors can be incredibly difficult. With all of the elements and traffic that they are exposed to, sometimes the last thing to be considered is furniture. Furniture can be one of the most damaging factors to your floors regardless if you have carpet, hardwood, tile or anything other form of flooring. Furniture legs are in constant contact with your floors and are frequently being moved around your home. This means that the potential for scratches, gouges and scuffs is always an ever-present danger to your flooring. I can't begin to count the times I've seen homes with once-beautiful flooring that have been torn to shreds by basic home furnishings such as dining room sets, coffee tables, couches, desk chairs, etc. Your floors are probably one of the most vulnerable surfaces in your home, not to mention one of the most expensive.
So how does one protect their floors from the perils of movable furniture? Easy! Furniture Feet Protectors! These days there is a Furniture Feet Protector for everything. No matter what you're trying to accomplish, there's an affordable solution right at your finger tips.
The most common pieces of furniture to be moved around are dining rooms sets. Dining rooms, on average, have hard surface flooring such as hardwood or tile. Both are highly susceptible to scratches from moving furniture. Fortunately, chair and table legs are some of the easiest feet to protect floors from.
Clear Sleeves are the simplest option for any standard straight or even mildly tapered chair/table legs. Clear sleeves slip over chair leg. They are designed to fit snugly onto the leg. They are available in both felt pads for hard surfaces and hard sliders for carpet. You can get clear sleeves in sizes from ¾" up to 2 3/4″ diameter. If your legs are square, add 1/4" to the size to get the right fit. When installing, sometimes the fit can be a little too tight. In that case, use a hair dryer or run warm water over the plastic portion of the clear sleeves. This will loosen up the material enough to be able to slide into place properly.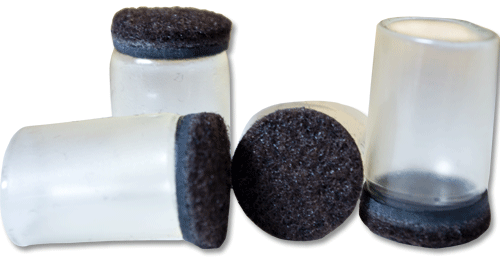 Similar to the clear sleeves are the Slip-On Floor Protectors. They also feature a sleeve-like body that can be slipped on over the chair leg. These are great for use with folding metal chairs and other pieces with smaller diameter legs. They can also be used on square legs.
Felt Slip-On Floor Protectors / Slider Slip-On Floor Protectors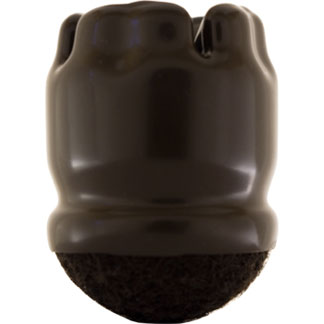 Some legs don't need a fixed piece to stay in place. Some just need regular sliders. With regular sliders, you just place the feet on top of the slider and let them be. Some sliders come with an adhesive layer to help them stick to the bottom of the feet while others still keep the leg in place with a formed "cup" platform that the legs rest in to prevent the leg from slipping off of the protector.
Standard Floor Glides and Felt Pads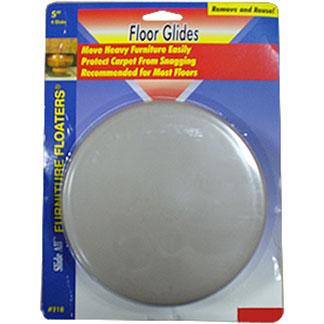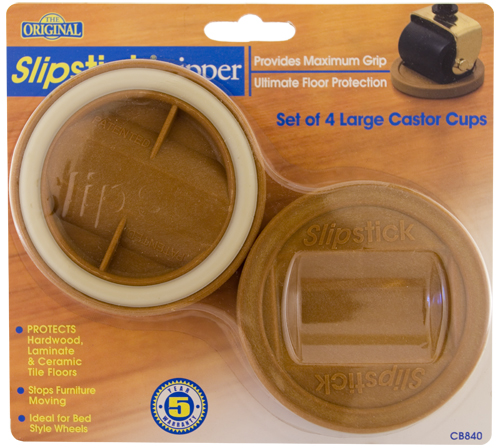 Office chairs with caster wheels are another issue. You can also protect your floors from desk chairs by using one of the caster grippers options. You can keep your desk chair in a single position regardless if its on a hard surface floor or on carpet. Caster Cups are designed to hold a desk or office chair in a fixed position, preventing it from rolling around and damaging carpet or hardwood.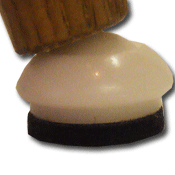 Often, when dealing with wooden chairs, you will find that your chair legs meet the floor at an angle. Your standard glides and clear sleeves won't work for these types of solutions. For this, we have a specific line of Angled Chair Leg floor protectors. Angled Chair Leg Protectors require minimal set up. Although we carry a couple different brands, the most popular by far is our GlideGuys option. These come in three separate pieces that need to be assembled before use. The first piece attaches to the bottom of the chair leg with a screw. The second piece is the base and the third is the covering that clips into place once the leg portion is firmly on the base.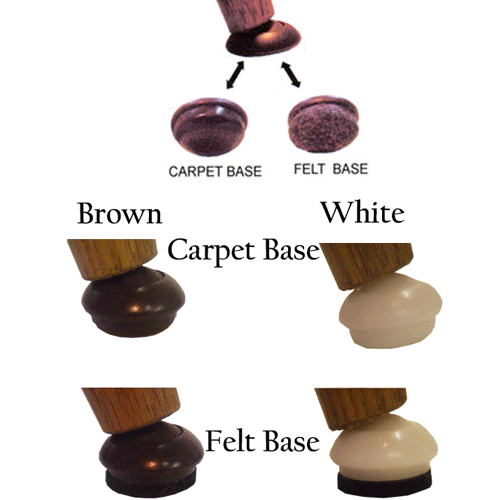 The reality is that there is a staggering amount of information out there regarding how to best protect your floors and furniture feet. My goal here was to answer some of your more basic questions about Furniture Feet Protectors.
As always, if you have questions please don't hesitate to call us! Our friendly team is standing by now to take your call and help you on your way to clean, undamaged floors!
Still have questions? Call Us! 800-504-5989
Our office hours are Mon – Fri, 8AM – 5PM CST